---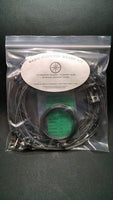 PROFESSIONAL SURVIVAL SNARE KIT
 DON'T BE FOOLED BY SOME OF THE OTHER INFERIOR SNARES KITS ON  THE MARKET. EITHER NOT ENOUGH SNARES, NO SUPPORT WIRES, POOR CRAFTSMANSHIP, OR SUBSTANDARD MATERIALS. I BELIEVE THIS KIT IS SUPERIOR IN FUNCTION AND RELIABILITY.
 

THIS PROFESSIONAL SURVIVAL SNARE KIT

 

IS FOR

 

SMALL

 

GAME, SUCH AS RABBITS, SQUIRRELS, MARTEN, MINK, OPOSSUM OR MUSKRATS AND OTHER SMALL CRITTERS.  
12  PREMIUM SNARES 
EACH SNARE IN OUR BASIC PACK ARE MADE FROM 3/64 1X19 CABLE AND IS 48" IN LENGTH, THE 1X19 CABLE HOLDS A MUCH BETTER LOOP AND HAS A HIGHER NOMINAL  BREAKING STRENGTH OF 400 LBS. COMPARE THIS TO THE 7X7 CABLE THAT HAS  ONLY 270 LB. NOMINAL BRAKING STRENGTH.
ALL OF OUR SURVIVAL SNARES ARE LOADED FOR SPEED, WHAT IS A LOADED SNARE. A LOADED SNARE HAS MEMORY BENT INTO THE BACK HALF OF THE LOOP, MAKING A ROUND LOOP RATHER THAN A TEAR DROPPED LOOP, THIS INCREASES THE SPEED OF WHICH THE SNARE CLOSES INCREASING YOUR CATCH RATE.