---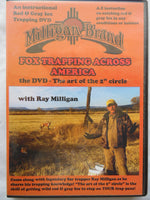 Ray Milligan's "Fox Trapping Across America" DVD starts in ideal November conditions and continues into January's frozen ground and deep snow. 

This DVD contains valuable information on how to, when to and where to make your sets and also covers preparing and selecting equipment, proper use of lures, baits and urines, maintaining a trapline, plus much more. 

This 2 1/2 hour DVD provides the know how to simplify catching lots of red and grey fox.