---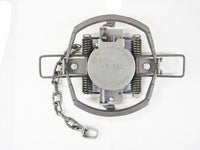 The MB 650 Cast Jaw trap has an inside jaw spread of 6"

Cast jaws are smooth and rounded to cause less damage to the foot.

Heavy duty #3 US made straight-link chain with MB Crunchproof swivels.

Unique pan system locks down both jaws so there is not a loose jaw.

Trap has super heavy 3/8" thick, 1/4" offset malleable cast jaws.

Target Species: Coyote, Bobcat
We recommend using the MB 650 Setter as the springs are very strong.  The setter allows you to safely hold the trap open with one hand, and set the trap with your other hand.