---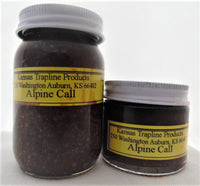 Alpine call is a real fur taker, and deadly to the coyote. It is a sweet smelling coyote gland lure.
The best seasons to use include fall and winter
Can be used for coyote, fox, bobcat, and wolf
Perfect for backlip of dirthole set or used as a scent post set
Available in 2 oz or 4 oz
Feel free to use the Alpine Call Lure with any bait you wish to use.