---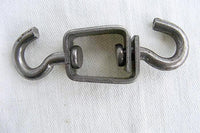 Can be used as a stake swivel on rebar up to 1/2" or as an in-line swivel on trap chain

2 J-hooks included.

Can also be used on drowners.

.105" thick

These swivels are considered "crunchproof" because a wolf or coyote cannot crush the swivel with their jaw pressure. This adds extra stability and security to your trap.

Sold per dozen.