---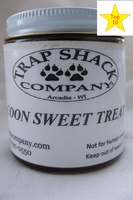 A sweet and sticky bait that contains 7 ingredients.

Appeals to a coons love 

of sugary foods.

Great in Dog Proof traps 

as coon will need to remain at set 

to try to get all the bait out.

Especially useful 

at locations in which have avoidance of cats. 

Easy to clean out of traps with hot water.