---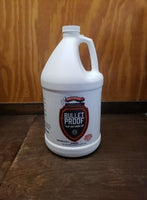 BULLETPROOF TRAP AND SNARE DIP
IS A BLEND OF HIGH PERFORMANCE ADDITIVES THAT WILL BE SURE TO WORK WELL IN ANY ENVIROMENT. WHEN USED IT WILL DRY CLEAR AND PROVIDES AN IMPENETRABLE COATING THAT DRIES ODORLESS AND SEAL'S IN FOREIGN ODORS SUCH AS RUST, METAL AND OTHER CONTAMINANTS. WHEN DRY,

 

BULLET PROOF

 

WILL ALLOW YOU TO SEE THE COLOR OF YOUR TRAPS, SNARES, BODY - GRIPS OR OTHER EQUIPMENT.

 

BULLET PROOF

 

WILL AID IN SPEEDING UP YOUR TRAPS WHEN TRIGGERED AND SNARES ALLOWING FOR A HIGHER CATCH RATE.
DO NOT FREEZE
FOR THE ULTIMATE IN PERFORMANCE AND DURABILITY WASH TRAPS OF ALL LOOSE DIRT, MUD OR SAND THEN USE OUR

 

BATTLE BORN TRAP CLEANER

 

TO REMOVE RUST, PAINT, WAX, DYE, AND OTHER CONTAMINATES. USE IN TEMPERATURES ABOVE 60 DEGREES AND ALLOW TO DRY FOR 24 HOURS BEFORE USING.
1 GALLON OF

 

BULLET PROOF

 

WILL COAT 60 AVERAGE SIZE TRAPS. FOR BEST RESULTS, DIP TRAPS TWICE DURING THE INITIAL APPLICATION OR UNTIL THE DESIRED THICKNESS OF DIP HAS BEEN APPLIED
WHEN USING ON CONIBEARS AND BODYGRIP TRAPS REMOVE COATING FROM TRIGGERS TO KEEP ACCIDENTAL FIRING OF THE TRAPS OR INJURY