---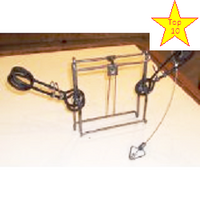 Target Species: Raccoon, Fisher, Marten, Muskrat, Skunk, Woodchuck

Double spring

Inside jaw dimension 6"x6"

Set outside jaw dimensions 6 ¾"x7" (47.25 sq. inches)

Include 12" cable with swivel end.

Made in Canada
Strongest springs of any bodygrip on the market
Magnum design ensures complete closure of the jaws. 
Friction-based safety - stays in place when setting.

Tom's Top Ten: This product has been selected by Tom, the owner, as a great product based on value, quality and function.