---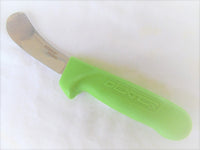 The AuSable Brand Michigan 4 1/2" fish/beaver skinning knife is the newest design in beaver knives that is made in the USA. Special features include:
bigger shaped handle that makes it easier to maneuver when skinning
DEXSTEEL™ blade made of high-carbon steel handle that is slip-resistant 
textured easy to clean polypropylene handle
handle that withstands both high and low temperatures
The high impact plastic handle and high carbon steel blade are easy to clean up with just warm water and soap. Make sure to add this knife to your fur shed knife collection.