---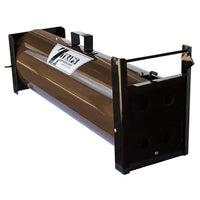 Excellent for skunks - a skunk cannot spray while in this trap because they cannot lift their tail nor arch their back.  The trapped animal can not see out of the trap, nor can any passers-by or other animals see into the trap.
The trapped animal can be easily transported.
Great for Animal Damage Control (ADC) work, on the farm, around the yard, by the garden, and under the shed.
The guillotine style door allows you to place the trap right up to the hole.
Can also be used for squirrels, cats, opossum or any small critter. The Tuff Trap is very heavy duty with a guillotine style steel door that has been powder coated.
It is made from a 6" diameter, 3/16" thick pipe, and is 24" long.
** FIVE YEAR LIMITED WARRANTY **
This warranty covers all manufacturing errors and normal wear and tear that would cause the Tuff Trap to not perform properly. Warranty becomes void if the Tuff Trap has been altered from its original condition in any way.  Warranty is for repair or replacement, a refund is not available.